Kealan Patrick Burke is passionate self-publisher and cover-designer. In this interview, he shares marketing strategies, his biggest challenges and, why he wouldn't price his digital novel over 6 dollars.
About Kealan Patrick Burke
Born and raised in Dungarvan, Ireland, Kealan Patrick Burke is the Bram Stoker Award-winning author of five novels (Master of the Moors, Currency of Souls, Kin, The Living, and Nemesis: The Death of Timmy Quinn), over a hundred short stories, eight collections (Ravenous Ghosts, The Number 121 to Pennsylvania & Others, The Novellas, Theater Macabre, Milestone: The Collected Stories, Dead Leaves, Dead of Winter, and Digital Hell), and editor of four acclaimed anthologies (Taverns of the Dead, Quietly Now: A Tribute to Charles L. Grant, Brimstone Turnpike, and Tales from the Gorezone, proceeds from which were donated to children's charity PROTECT.)
Kealan has worked as a waiter, a drama teacher, a mapmaker, a security guard, an assembly-line worker at Apple Computers, a salesman (for a day), a bartender, landscape gardener, vocalist in a grunge band, and, most recently, a fraud investigator. He also played the male lead in Slime City Massacre, director Gregory Lamberson's sequel to his cult B-movie classic Slime City, alongside scream queens Debbie Rochon and Brooke Lewis.
When not writing, Kealan designs covers for print and digital books through his company Elderlemon Design. To date he has designed covers for books by Richard Laymon, Brian Keene, Scott Nicholson, Bentley Little, William Schoell, and Hugh Howey, to name a few.
In what little free time remains, Kealan is a voracious reader, movie buff, videogamer (Xbox, PC, & PS3), and road-trip enthusiast.
His short story "Peekers" is currently in development as a feature film at Lionsgate Entertainment.
1. What are your biggest challenges in your life as an author?
The biggest challenge by far has been getting to a place where I can write full-time without having to worry about going bankrupt. The objective has never been to get rich (though of course, I would hardly complain if that were to happen), rather to be able to live comfortably while doing what I love. I'm fortunate enough to be able to work as a full-time writer these days, but the publishing world is so fickle, that can change at any time. So you have to keep producing new work while following the markets if you want to keep your readers and stay above water.
2. How were your book covers created? What is the most important about a good cover for you?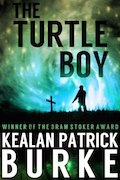 I create all my own covers, and indeed offer the service to other authors via my design company elderlemondesign.com. The most important qualities of a good cover are a striking image and clear attractive font, elements which should complement the other, and all of which should be visible when the cover is reduced to thumbnail size (which is how most readers will first see it in their online bookstore.) If a reader can't tell what is happening on the cover, or if the cover is unattractive and cheap-looking, it gives a poor impression and loses the reader's interest before they even know what the book is about.
3. Which criteria define your book prices?
I tend to price my books in keeping with my own purchasing trends. For instance, I'm more likely to buy a digital novel priced under $6.00, so ideally, I keep my prices beneath that number. I'd feel uncomfortable expecting readers to pay more for my book that I would.
4. What is your strategy, that your work becomes a bestseller?
Just to keep writing as best I can, keep putting out the best quality work, and doing everything in my power to get the books noticed.
5. Besides classic marketing actions, what do you do to boost the success of your book?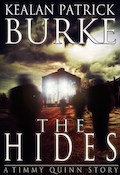 I'm a big believer in the power of social media. Interacting with readers on places like Facebook and Twitter has certainly assisted in the popularity of my books. And sites like Goodreads have been invaluable in getting a particular title noticed. Targeting popular bloggers/reviewers and ensuring they have access to early review copies is essential too. The more people talking about your book the day its released, the better.
6. What is your most precious tip for a new indie author?
Don't focus on becoming an overnight success. Sure, that happens, but it's incredibly rare and requires a whole host of elements to align at once. Instead, concentrate on writing the best book that you can, the book you want to write, not the book you think you should write. Ignore genre trends and write from the heart, and when your heart gets broken, which it inevitably will (writing requires a thick skin), use it to inspire you to do better, not to give up. Real writers write no matter what; pretenders quit quickly.
7. Where do you write? Would you show us your writing place?
I write in my office at home, within which is a large desk stacked with reference books on one side and a printer/scanner, and office supplies on the other. My laptop sits in the middle. There's a window to my right which looks out over a busy highway (not my ideal view, but it keeps me from being distracted by anything beautiful). Behind me are bookshelves filled with copies of my books, awards, and other collectibles. And the walls are adorned with paintings various artists have done to accompany my stories in magazines. It's a very modest office, nothing fancy, but it's all I need to do what I do.
8. With which author would you like to have dinner, and what were your first question?
I would love to have dinner with Stephen King and ask him what the single best and worst pieces of advice he ever received were.
9. What is your next project, and what would you do differently compared to your past ones?

My next project is a novel entitled Night Falls on Memory Lane, the first book in a new series. It's connected to a previous series in that the main character is the grown-up daughter of the hero of the previous books. Every book I write is different, and not always in ways of which I am immediately aware, but for this one, I am consciously ensuring that my main character, Cassandra, is completely different from her father so that the two series don't just seem like carbon copies of each other. This one will be darker too, because I like to push the envelope with each new book.
10. What do you appreciate in XinXii?
Apart from the great service XinXii provides by making it easy for authors to distribute their books to a multitude of foreign markets, I am very impressed with your accessibility. Everybody is very helpful and very supportive of the writers. It's a warm community, and that's not always easy to find. XinXii truly do seem to have the authors' best interests at heart and that's very refreshing indeed.
Thank you, Kealan, for sharing your experiences. Lots of joy and success on your way as an indie author!
Kealan Patrick Burke on XinXii | kealanpatrickburke.com | elderlemondesign.com
facebook.com/kealan.burke | @KealanBurke | goodreads.com/KealanPatrickBurke