XinXii today announced a distribution agreement with Google, and we are pleased to present Google Play Books as another exciting sales opportunity for self-publishers.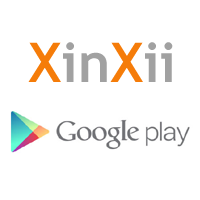 About Google Play
On Google Play Books, readers discover great books in every imaginable category, from the New York Times bestsellers to favorite classics and new releases: play.google.com/store/books.
XinXii makes it fast and easy for every author to expand internationally: We make the e-book available to millions of potential readers in all 65 countries which support the purchase of e-books from Google Play:
Argentina, Australia, Austria, Belarus, Belgium, Bolivia, Brazil, Canada, Chile, Colombia, Costa Rica, Czech Republic, Denmark, Dominican Republic, Ecuador, El Salvador, Estonia, Finland, France, Germany, Greece, Guatemala, Honduras, Hong Kong, Hungary, India, Indonesia, Ireland, Italy, Japan, Kazakhstan, Kyrgyzstan, Latvia, Lithuania, Luxembourg, Malaysia, Mexico, Netherlands, New Zealand, Nicaragua, Norway, Panama, Paraguay, Peru, Philippines, Poland, Portugal, Romania, Russia, Singapore, South Africa, South Korea, Spain, Sweden, Switzerland, Taiwan, Thailand, Turkey, Ukraine, United Kingdom, United States, Uruguay, Uzbekistan, Venezuela, and Vietnam.
We are looking forward to continously expand our distribution network to grow our authors' worldwide audience and sales in the months and years ahead.