Courtney Milan's historical romances are bestselling and produced carefully. In this interview, the passionate indie author shows us her writing spots and shares her experiences on book cover design, pricing strategy, and high quality stories.
About Courtney Milan
Courtney Milan's debut novel was published in 2010. Since then, her books have received starred reviews in Publishers Weekly and Booklist. She's been a New York Times and a USA Today Bestseller, a RITA® finalist and an RT Reviewer's Choice nominee for Best First Historical Romance. Her second book was chosen as a Publishers Weekly Best Book of 2010.
Courtney lives in the Rocky Mountains with her husband, a marginally-trained dog, and an attack cat.
Before she started writing historical romance, Courtney got a graduate degree in theoretical physical chemistry from UC Berkeley. After that, just to shake things up, she went to law school at the University of Michigan and graduated summa cum laude. Then she did a handful of clerkships with some really important people who are way too dignified to be named here. She was a law professor for a while. She now writes full-time.
1. What are your biggest challenges in your life as an author?
I think the biggest challenge for an author is to set a schedule to make sure that you're spending time on writing. It's so easy to tell yourself that it's okay to spend all day answering emails or doing something else. There are always so many things to do that you could spend all day doing things that are related to writing but aren't writing.
So make sure you're making writing a priority.
2. How were your book covers created? What is the most important about a good cover for you?
I think the most important thing in designing book covers for the digital world is that you have to consider how it looks as a thumbnail (usually a graphic about 50 x 75 pixels). When people are browsing ebook sites, that's how they'll usually first encounter your book—as a very small graphic. That graphic should immediately convey the subgenre (in my case, historical romance), while keeping your author name and (if you can) the title visible.
The second most important thing is to have a visible brand. Someone should be able to tell that your book is "yours" just by glancing at it—even if they can't quite make out the name.
I do my covers myself. I start by looking for women in wedding dresses, and then manipulate them from there into something that looks like a historical dress. I have a longer post explaining how that happens here:
http://courtneymilan.tumblr.com/post/73371595545/where-do-your-covers-come-from-the-images-models
3. Which criteria define your book prices?
At this point, I have a well-defined strategy for pricing my books. I have short novellas (usually around 30,000-35,000 words), like Zärtlicher Winter or Der Schlüssel zu deinem Herzen, which I usually price at 0,99 euros. My full-length books (Der Herzog und seine geliebte Feinden, Die Erbin und ihr geliebter Verräter) are priced at 2,99 euros.
At some point, I'm probably going to bump my prices up just a little bit (to 3,99 euros for full length books) but that's about it.
4. What is your strategy, that your work becomes a bestseller?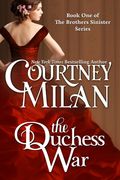 I don't have much marketing strategy. Have a good book, have a good cover—those are the two most important things. I think most of my marketing happens in the page after the end of the book. Anyone who gets to the end of the book usually enjoyed reading the book—people who don't, usually give up before then. So I tell the people who get to the end about my other books (if they liked this one, they'll probably like those, too) and tell them to sign up for my newsletter so they can find out when a new book is out.
5. Besides classic marketing actions, what do you do to boost the success of your book?
I really don't think there are any secrets. Write good books, package them well, and hope that people read them.
6. What is your most precious tip for a new indie author?
Spend your time working on your craft so that you're putting out the very best book that you can. If you can't do that, it doesn't matter if you're a marketing genius. If you want to have a career as an author, the number one rule is that people have to like your book enough to want to read the next one.
7. Where do you write? Would you show us your writing place?
I have a home office where I do much of my writing. Sometimes, I need to shake things up, though, so I have some other places where I'll visit. My local Starbucks is a classic, but I also have a membership to the Denver Botanic Gardens, where I can sit in the café and work and then go for a walk among the plants. It's a beautiful and restful place to work.

8. With which author would you like to have dinner, and what were your first question?
I think I would like to have dinner with Ilona Andrews. I've never had the opportunity to sit down with them at length (I use the plural pronoun because Ilona Andrews is a husband/wife pair), unfortunately, and wish that I did! They write fantastic books with extraordinary world building. Also, every time I hear Ilona Andrews speak out online it's always something interesting and relevant.
I'm not sure what my first question would be, but I think I would laugh awkwardly and say something like, "Why are you so cool?"
9. What is your next project, and what would you do differently compared to your past ones?

I'm working on a brand new historical romance series, called the Worth Saga. It's about a family that is ripped apart when the father is convicted of treason. It's a little different than my last series in a handful of ways. First, it's a longer series than my last series have been – there will be more than 10 books and novellas in total. And it's a historical romance series that starts in Britain, but will go elsewhere – Shanghai and Hong Kong, for instance.
I'm really excited about it!
10. What do you appreciate in XinXii?
As an author from the United States, it's hard to know what the German market is like. It's great to have a place to go where I know that they'll keep abreast with the market and send my books to everywhere that German readers want to find books.
Thank you, Courtney, for sharing all these precious tips and your experiences. Lots of joy and success with the Worth Saga and on your way as an indie author!
Courtney Milan on XinXii | courtneymilan.com
facebook.com/courtneymilanauthor | @courtneymilan | courtneymilan.tumblr.com