If there's a book you really want to read,
but it hasn't been written yet, then you must write it.
~Toni Morrison
Want to publish your eBook but do not know where to start from? XinXii is an online platform that gives you the possibility to publish your works with a simple click: At XinXii, you just upload your eBook, and put it up for sale. Getting your eBook ready for sale just takes some minutes! There is no charge to put your eBook up on XinXii, and you will have access to a readership avid for new titles, topics and information to read on their devices. It is truly amazing to share your thoughts with the world so easily!
You start by registering yourself as an author at the XinXii site, where you will be able to add a new title. If you are an American author, you do not have to give your tax identification number. You just need to give your name and address.
If you register at XinXii, you are obligated to provide true, exact, current and complete information. But you are free to publish under your pseudonym or pen name. By the way: On XinXii, you just need to open one single XinXii account to manage multiple pen names or to publish eBooks in different languages!
You are now on the road to publishing your piece of writing on XinXii. Once you have signed in, publishing an eBook on XinXii is a one step process! You click the "Publish" tab…
… and start entering the basic details about your eBook – category, title, description, cover image, search keywords, author name, the language in which the book is written, sales price etc. The lowest price you can set is .99 cents, and the royalties offered are 70% of net sales for works with a price greater than $2.49 / £1.59, and 40% of net sales for works with a price at or between $0.99 and $2.48 / £0.89 and £1.5870% or 40% – to all publishers in all territories. Set your price accordingly to which royalty you want to receive. The decision what to put in these fields is entirely yours!
After having fixed the sales price, you upload the file. XinXii accepts a wide range of file formats, including doc, mobi, ePub, PDF, Excel, PowerPoint and even mp3.
Your eBook is available on the XinXii marketplace instantly after your upload, but you will be able to correct any errors you find in presentation or format, and you have the possibility to remove your work from the XinXii eStore at any point you decide to do so.
You will now need to market the eBook heavily, and for help with this, visit the XinXii "Book Marketing"-section, where you will find lots of marketing advice – and a supportive community on our Facebook-Page.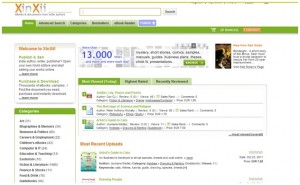 You can start publishing and selling your written works today!
PS: On XinXii, each author can choose the currency, in which he wants to manage his XinXii-account (that means the currency in which sales prices are settled and transactions of revenues are made). So if you select USD, you will be paid by us in USD (w/o conversion).